All natural artisan breads, pastries and cakes hand-crafted in our humble South Perth cafe.
333 Mill Point Road, South Perth
A unique, seasonal menu of dishes and cakes, crafted with the finest local produce.
Mushrooms four ways
Fried Enoki / Bonito-stock Poached Shimeji / Char-grilled Shiitake / Sauteed Button
Our own twist on Singaporean Chilli Crab mixes up soft-shell crab, scrambled free-range eggs with a house-made chilli sauce and baguette.
Chilli Crab and Scrambled Eggs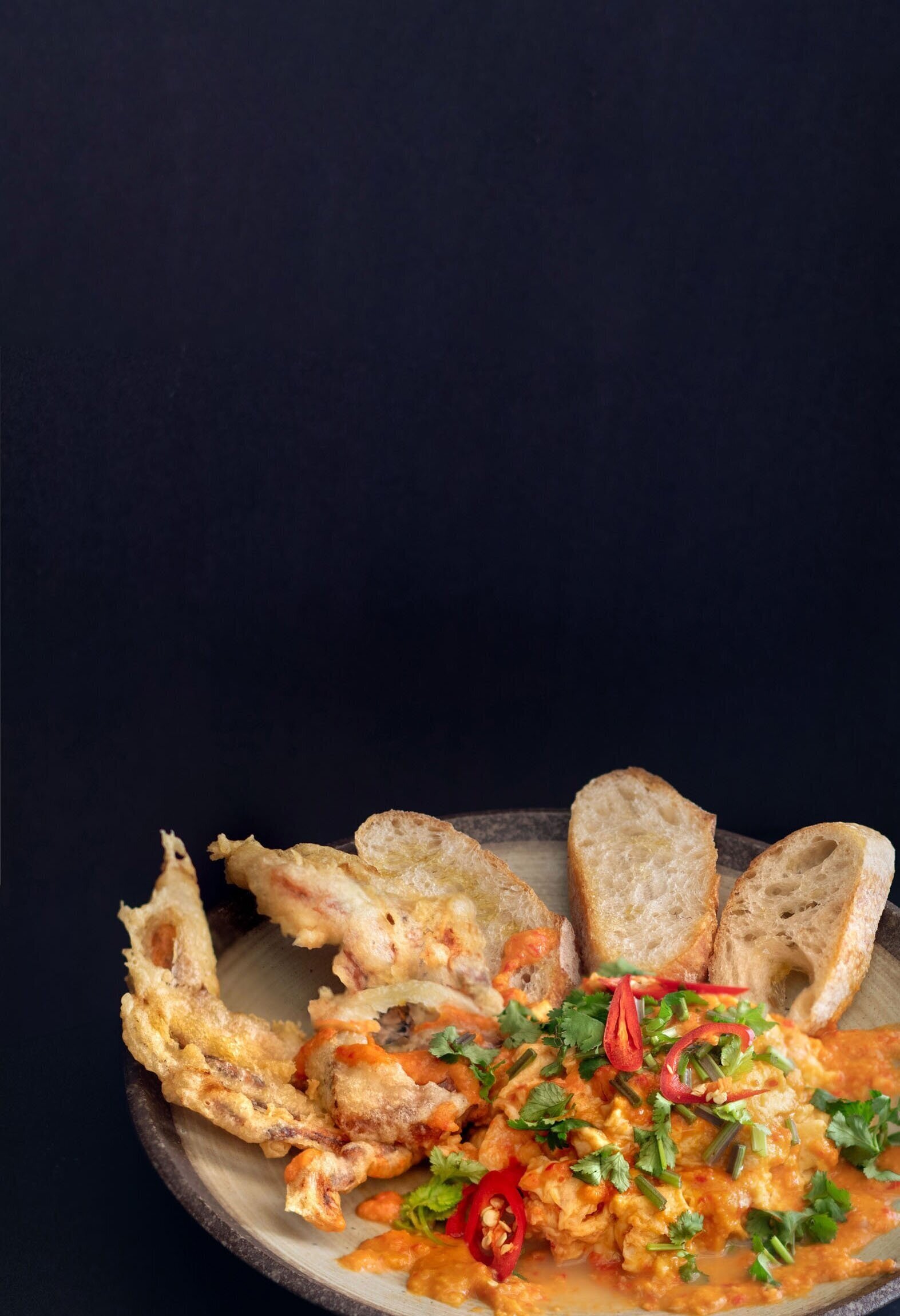 Led by Baker Ailin; Baker Et Chef's mission is to offer delightful and surprising culinary experiences in a simple cafe setting.
Our bread is a throwback to the centuries-old tradition of breadmaking.
learning from the masters
Using a sourdough base developed with a 'levain', we tap into a centuries-old technique for producing bread - which Ailin acquired under the tutelage of France's leading bakers.
The technique gives bread a natural flavour, and was used for centuries prior to the industrial revolution.
premium australian flour
As part of our commitment to sustain our land, all of breads and pastries at Baker et Chef are made using Australian-sourced organic and sustainable flours.
House-made, whisky-cured smoked salmon with our unique yuzu hollandaise sauce, nori strips, tobiko fish roe served on a sourdough toast.
Petit Gâteau
[Small single serve desserts ]
Petit Gâteau (a French term for miniature desserts) are handmade over a three-day process, using specialised techniques and unique ingredients. Please note: availability may change with the seasonality of ingredients.
Lime and Grapefruit "Lena"
Lime cheesecake mousse with grapefruit whipped ganache, caramelised pistachios, baked lemon cheesecake on a shortbread base dressed in coconut. A homage to our team member Lena, it pairs of lime and grapefruit to reflect her mixed cultural background.
Vanilla Chantilly and Mandarin
"Erin"
Inspired by our sweetest team member Erin, a vanilla Chantilly mousse mixed with South West honey, a mandarin compote centre, chestnut crémeux and hazelnut financier. Topped with a rose gold, powder-dusted white chocolate decoration.
Dark Chocolate and Hazelnut "Robbie"
Gluten-free dark chocolate mousse, with a hazelnut cookie base, a hazelnut berry crafted with couverture hazelnut white chocolate and cocoa dust. Labour-intensive, traditionally-made and very much inspired by our youngest team player Robbie.
Buttermilk waffles served with banana, caramelised pineapple, fresh strawberries, tropical coulis, coconut anglais, icecream, whipped cream and topped with pistachios.
A delightful pairing of five-spice free-range pork belly, with a mint cucumber and pickled red onion salad, served in a crunchy, toasted baguette.
The Ceasar Salad with house-made dressing and croutons, avocado and free-range eggs. Customise with grilled free-range chicken or artisan bacon steak.
Gourmet Toasted Sandwiches
The perfect meal to bring you warmth and comfort this season. Our seasonally flavoured gourmet toasties are made using our very own breads produced from all natural flours, with zero additives or preservatives. Indulge in one (or two) today.
Smoked Salmon Baguette
In-house smoked and cured salmon layered with rocket and encased in artisanal sourdough.
Ham and Gruyere
Traditional double smoked ham sourced from a local artisanal French butcher, married with a French Swiss gruyere.
Roasted Vegetables
Caramelised onions, roasted capsicum, sweet potato, cheddar cheese and baby spinach sandwiched between two slices of house-made sourdough.
grilled Chicken
Grilled to perfection, our sous vide free range chicken breast is served with sun-dried tomatoes, house-made basil walnut pesto, cheddar and baby spinach.
Find us
333 MILL POINT ROAD, SOUTH PERTH